Jump to:  How does it work? | Why? | Registration | Downloadable Documents
 
Essentials for Living – Workshop July 27-28 for parents and providers.
 
What is Essentials for Living?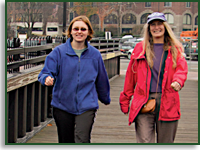 Essentials for Living by Patrick McGreevy, Ph.D. and Associates, is an assessment tool and curriculum designed for children and adults with higher support needs.  The goal of a program based on Essentials for Living is safe, effective, and high-quality participation in family and community living.  It is intended to be taught using applied behavior analysis.

Essential for Living emphasizes communication and pragmatic language skills. It is especially designed for learners with limited or no spoken words.  An important goal of this program is to identify what alternative method of communication would be consistent with a minimally verbal person's current sensory, skill and behavioral repertoire.  The method should be continuously and effortlessly available to him/her, and it should last a lifetime.

How is Essentials for Living Structured?
Essential for Living includes over 3,000 skills sorted into 7 domains:  communication, language, daily living, social, functional academic, and tolerating skills, along with a domain on severe problem behavior.

Skills within these domains are sequenced from must-have, should-have, good-to-have, and to nice-to-have.

The must-have skills are also called the Essential Eight:
Making requests for access to highly preferred items and activities and for the removal or reduction in intensity of specific situations.
Waiting after making requests.
Accepting removals — the removal of preferred items and activities, making transitions, sharing, & taking turns.
Completing brief, previously acquired tasks.
Accepting 'No.'
Following directions related to health and safety.
Completing daily living skills related to health and safety.
Tolerating situations related to health and safety.
To learn more, see:  https://essentialforliving.com/efl/

Why is the DD Council supporting a workshop about Essentials for Living?
Family caregivers have told us that they are frustrated by the fact that programing for their adult son or daughter does not include skill building.  It is as if all learning stops once someone transitions from special education, they say.  This is especially true for individuals who are minimally verbal or who have higher support needs.  Just as you and I are learners throughout our lifetime, so are people with developmental disabilities.

The ability and desire to learn can be channeled to acquiring the skills that lead to greater engagement with the community, more independence, and a higher quality of life.  The DD Council supports using Home and Community Based Services (HCBS) budgets to support this type of skill building.  Too often, HCBS for adults is reduced to custodial care, meaning the emphasis is on keeping the individual safe and happy in the company of a direct support provider, instead of challenging the individual to learn and grow.

Importantly, teaching from the Essentials for Living curriculum does not mean sitting in a room practicing skills in the abstract.  The learning takes place as one goes about their daily activities.  The program can be built into the same activities that are typically part of community-based support.  This is more rewarding for the individual and – if well trained – the direct support provider as well.

The DD Council wants to raise our expectations about what individuals, including those with higher support needs, can achieve.
Registration for VTDDC's Essentials for Living workshop...
The workshops will take place on July 26, 2022 and July 27, 2022 from 9:00am to 4:00pm, with a lunch break in-between.
There are two versions to the same application. You may download, print, and hand write the application or you may download and type. Make sure to save the file to your desktop so that it saves your changes. The deadline to apply is July 15, 2022.
---
Downloadable Documents seen on this page: