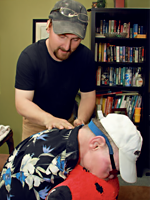 Disability advocates are concerned about a new US Department of Health and Human Services rule that grants protections to healthcare providers who make decisions based on their own personal and religious beliefs.
In what the Trump Administration has nicknamed the "conscience rule," licensed healthcare professionals, such as employees of hospitals, group homes, and agencies, can now choose to refuse aid to an individual seeking an abortion, sterilization, or assisted suicide. And, the loose writing of the new rule may go even further than that.
Advocates argue that the rule opens the way for personal opinion to override civil rights. Examples of the many ways the "conscience rule" could be interpreted include: Denying someone their medication, blocking access to doctors or procedures, and even telling a person what they can or cannot wear. The rule also protects providers from discrimination or retaliation when acting on their religious or personal beliefs.
"A person's wellbeing, safety, and choice should not be at jeopardy to receive services. This revised rule by the US Health and Human Services contradicts both the Constitution and the Americans with Disabilities Act."
- Kirsten Murphy, Executive Director to the Vermont Developmental Disabilities Council
Under the new rule, insurance providers and employers also have a say about which medical services they're comfortable with delivering and/or paying for, which may lead to a greater denial rate especially in conservative states.
Vermont is among the twenty-three (23) states and cities that filed a joint appeal about undermining patient trust, the misuse of federal spending, and the above concerns.
As of July 1, 2019, a federal judge blocked the original timeline for when this rule comes into effect - but the delay is only until November 2019 and it does not guarantee a dismissal or re-write to the proposed rule. In the meantime Plaintiffs will have to remain vigilante that one persons discomfort does not overrule another persons civil right.
For more information read the article by Disability Scoop, Washington Post, and an update with NPR.
---
Side Notes:
Should a provider's personal beliefs limit the care provided?

Communities who are most likely to be affected by the "conscience rule" are women and people who are LGBTQ.