Jump to:  OIDD | NACDD | In-State Partners
OIDD is our federal funder
The Office of Intellectual and Developmental Disability (OIDD) is under the United States Department of Health and Human Services, and oversees the University Centers for Excellence, Protections and Advocacy, and Projects of National Significance.

  Vermonts versions of these programs include the Center on Disability and Community Inclusion and the  Vermont Coalition for Disability Rights.
NACDD is our guide
The National Association of Councils on Developmental Disabilities (NACDD) is the host network of all United state and territory Developmental Disabilities Councils. It was founded by the Developmental Disabilities Act in 1970.
Their role is to provide technical assistance, advocate for national public policy, advocate for budget appropriations, and provide leadership and developmental training to 56 Developmental Disabilities Councils.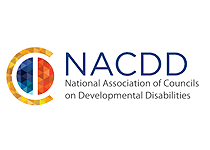 1825 K Street NW, Suite 600
Washington, DC 20006
http://nacdd.org/
1-202-506-5813
info@nacdd.org
---
In-State Partners
Center on Disability and Community Inclusion
2 Mann Hall, 3rd Floor
208 Colchester Avenue
Burlington, VT 05405‐1757
www.uvm.edu/~cdci
1‐802‐656‐4031
No email listed.
Disability Rights Vermont
141 Main Street, Suite 7
Montpelier, VT 05602
www.disabilityrightsvt.org
1‐802‐229‐1355
info@disabilityrightsvt.org
Green Mountain Self‐Advocates
2 Prospect Street, Suite 6
Montpelier, Vermont 05602
www.gmsavt.org
1‐802‐229‐2600
info@gmsavt.org
Vermont Center for Independent Living
11 East State Street
Montpelier, Vermont 05602
www.vcil.org
1‐802‐229‐0501
info@vcil.org
Vermont Coalition for Disability Rights
11 East State Street, Suite 2
Montpelier, Vermont 05602
www.vcdr.org
1‐800‐639‐1522
info@vcdr.org
Vermont Family Network
600 Blair Park Road
Williston, Vermont 05495
www.vermontfamilynetwork.org
1‐802‐876‐5315
info@vermontfamilynetwork.org
Vermont Federation of Families for Children's Mental Health
PO Box 1577
Williston, VT 05495
https://www.vffcmh.org/
(800) 639-6071
vffcmh@vffcmh.org