Jump to: Writing the State Plan | Read the State Plan | See the Research | Downloadable Documents
Every five years the Vermont Developmental Disabilities Council shapes a new State Plan that best reflects the current needs of their family, friends, and neighbors in our state. The State Plan guides how the Council uses its resources -- including VTDDC's annual allocation of federal funds -- to improve the lives of Vermonters with developmental disabilities.

The State Plan helps VTDDC to measure and realize its goals and objectives, and how it has impacted Vermonters state wide.  Its three goals aim to identify and assist under-served communities, support self-advocates, and give Vermonters with with developmental disabilities more opportunities to seize statewide supports.
"The first barrier is money. It's easier to identify economic barrier, as it's the reason why people are under-served."
- Terry Holden, Council Member
Drafting the 2022-2027 State Plan
Council members have persevered through the social-restrictions and accommodation-challenges that have been placed by the coronavirus pandemic. Three small teams meet monthly to discuss their assigned topics/goals within the upcoming 5-Year State Plan. The notes are shared for these meetings after they take place.
Team 1 will find the gaps in services that people with intellectual and developmental disabilities receive in Vermont.
Team 2 will empower self-advocates and family members to be leaders in their communities.
Team 3 will look at policies, educate legislators, and partner with allies to inspire state-wide systems change.
The Council's dedication to the planning and completion of the next 5-Year State Plan has them on track to meet the very specific deadlines put in place by the Federal DDAct. They hope to have a drafted set of Goals and Objectives available for public comment by mid-April, but they welcome feedback from the public at any time through-out the drafting process.
Self-advocates, family members, and allies, may write vtddc@vermont.gov to answer the following:
When you think about Vermonters with intellectual and developmental disabilities, and their family members...
What sort of changes need to happen to improve their lives?
What's working well? Is it something that should be built-up or made available to more people?
What isn't working well? Where are the "gaps"?
Do you have any additional thoughts you'd like to share?
Together we can make change. Your ideas and experiences are important to us, and your name will be kept private. Your comments – but not your name – will be shared with the appropriate planning team. What you say may help influence how the Council uses its limited resources for the next five years.
Writing the 2017-2022 State Plan
When Council Members wrote VTDDC's 2017-2022 5 Year State Plan Goals and Objectives, they focused on supporting and improving the lives of those with developmental disabilities who are unserved and underserved in Vermont's communities.
The 5 Year State Plan was revised in August 2018.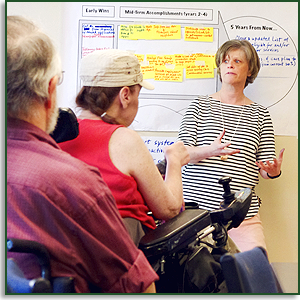 What's the research supporting the State Plan?
The Human Services Research Institute (HSRI) from Cambridge, Massachusetts, was hired as an important part of VTDDC's Needs Assessment. The independent firm collected and analyzed information from many sources; their research came from public documents,  stakeholder interviews, an online survey, and focus groups.
---
Downloadable Documents seen on this page: