Jump to: Writing the State Plan | Read the State Plan | See the Research | Downloadable Documents
Every five years the Vermont Developmental Disabilities Council shapes a new State Plan that best reflects the current needs of their family, friends, and neighbors in our state. The State Plan guides how the Council uses its resources -- including VTDDC's annual allocation of federal funds -- to improve the lives of Vermonters with developmental disabilities.

The State Plan helps VTDDC to measure and realize its goals and objectives, and how it has impacted Vermonters state wide.  Its three goals aim to identify and assist underserved communities, support self-advocates, and give Vermonters with with developmental disabilities more oppertunities to seize statewide supports.
"The first barrier is money. It's easier to identify economic barrier, as it's the reason why people are underserved."
- Terry Holden, Council Member
Writing the 2017-2022 State Plan
When Council Members wrote VTDDC's 2017-2022 5 Year State Plan Goals and Objectives, they focused on supporting and improving the lives of those with developmental disabilities who are unserved and underserved in Vermont's communities.
The 5 Year State Plan was revised in August 2018.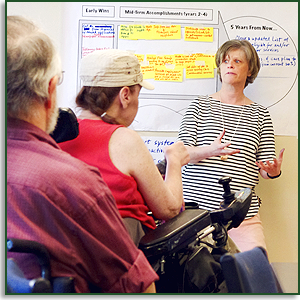 What's the research supporting the State Plan?
The Human Services Research Institute (HSRI) from Cambridge, Massachusetts, was hired as an important part of VTDDC's Needs Assessment. The independent firm collected and analyzed information from many sources; their research came from public documents,  stakeholder interviews, an online survey, and focus groups.
---
Downloadable Documents seen on this page: