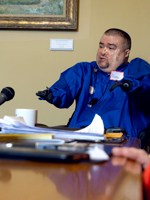 Have you ever witnessed discrimination or been discriminated against, and wondered "Why isn't someone doing something?"
The Vermont Human Rights Commission (VHR) is a governor -appointed board that oversees the investigation and resolution of complaints about discrimination in housing, public accommodations, or state employment.
To address an issue, the Commission must receive a formal complaint. Executive Director to the VHR, Bor Yang, sees this as a hindrance to their full potential. She testified before the Senator Judiciary Committee last week to request an amendment to House Bill 518 (H.518) that would permit a more proactive approach in the case of law enforcement.
Yang asked the Senate Judiciary Committee to add language that would empower VHR to probe police records without a consumer complaint. She cited the case of former representative Kiah Morris as an example where the Commission could not address obvious discrimination because a formal complaint was never filed.
Beth Novotny, a lobbyist for the Vermont Police Association, countered, saying Yang's approach would allow "a fishing expedition," encouraging VHR to search for problems instead of responding to them.
The Senate Judiciary Committee ultimately sided with the Vermont Police Association, but they would like to build a working group of advocates and professionals to perform outreach in the name of the VHR. Yang hopes for a simpler solution -- expanding the Commission's budget and hiring a full-time outreach person.
For more information read the article by SevenDaysVT.
To learn about filing a complaint: https://hrc.vermont.gov/how-to-file
---
Side notes:
Local and well-known disabilities advocate, Nate Besio, is one of five who serves the Vermont Human Rights Commission.



In 2018 the Vermont Human Rights Commission logged 826 phone calls, seven (7) informal complaints, and sixty-two (62) formal complaints.