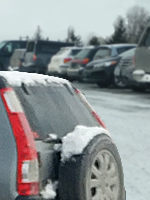 A new bill proposes stronger protections for car shoppers so that they're not misled about credit, affordability, and the size of their monthly payments.
Through out the previous year the Vermont Legal Aid has filed an increasing number of complaints on the behalf of consumers who say they're victims of sales fraud.
Complaints stem from when when car shoppers accept help filing their loan paperwork. Auto salesmen may misrepresent the buyer by listing an incorrect income or credit score. There are two outcomes - either the buyer takes the keys, drives home, and is later called by the dealer who says "The loan didn't go through." Or they take the keys, drive home, and later receive a bill from the loan company asking for a payment they can't afford. With a car they don't legally own the only two options buyers have are returning the car or paying the loan with larger payments and a higher interest rate.
People who experience this type of fraud are often marked as "easy targets" because they live under the poverty line.
Legislation spearheaded by Becca Balint will help buyers by:
Capping the "document filing fee" at $150.

Requiring the consumer receive copies of loan applications before they're filed.
The Vermont Auto Dealers association says it has not received reports of the fraud described.
For more information read the article by VTDigger
---
Side notes: