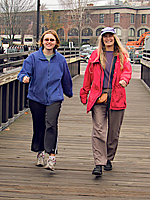 Last month CMS published guidance for the implementation of a
2014 administrative rule
that defined, for the first time, how a program must operate if it is to be considered "in the community." CMS explained that qualifying for federal matching-funds is less about the physical setting and emphasized the importance of quality programs that give people with disabilities full access to the community.
People who receive Medicaid and are cared for by qualifying-facilities must have access to the community, their privacy respected, the dignity of choice, and independence. In other words, settings must "promote independence and community integration".
Facilities that are not in compliance have until March 2022 to make the required changes if they wish to receive funding from Medicaid.