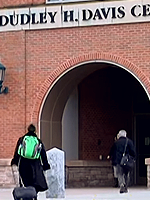 A
half-century old federal law
will relieve anyone of their student debt as long as they have a significant disability, but too often people default on their loans because they're over-burdened by years of unnecessary paperwork.
The
United States Department of Education
does not have a process to alert qualifying Americans with disabilities about student loan forgiveness, nor does it just automatically forgive what they owe, the Department has proven that automatic identification and forgiveness is possible.
Last August President Trump and Education Secretary Betsy DeVos
revealed that veterans with disabilities will automatically have their student debts forgiven
, no matter the amount they owed or for how long they've defaulted. Meanwhile, thousands of non-veteran borrowers have been identified with significant enough disabilities that they too qualify for loan forgiveness, but forgiveness is not automatic for them. The process is lengthy, stressful, and discouraging to many who have to prove annually for three years that their disability prevents them from maintaining a reliable income. If a single form is missed or an error is made, the loan is reinstated as if the disability never existed.
Advocates wonder, if automatic forgiveness can be given to veterans who receive federal disability benefits, and the laws and programs are already in place, then why can't the Department of Education make loan forgiveness automatic for everyone who qualifies?
Do you have a significant disability that stops you from working AND you're making monthly payments to your student debt? Call 1-888-303-7818 or email
disabilityinformation@nelnet.net
and find out what you need to do to begin your path to loan forgiveness.
---
Side note:
Of those who've filed to have their loans forgiven because of their disabilities, 75,000 borrows somehow had their loans reinstated during the long, three-year process.