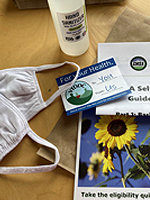 The Vermont Developmental Disabilities Council (VTDDC) has put together 1,300 individual care bags for self-advocates and family members to help them combat the coronavirus.
Since August 1st, the State of Vermont has required every Vermonter to wear a face mask in public. People are also encouraged to stay six (6) feet away from others. This is about the length of one dairy cow. Stores and business have the right to turn away any customer who is not wearing a mask to cover their mouth and nose.
People with disabilities are often more vulnerable to infections and complications if they become sick. That's why VTDDC is giving away free personal protective equipment to self-advocates and family members who have a child, teen, or adult with a disability living with them. In the care bag people will find:
Two light-weight cotton masks
One 8-oz bottle of hand sanitizer
"Ever since the pandemic began, the concern we hear most often from Vermonters with disabilities is that they have no way to protect themselves. We want to help as many people as we can."
- Kirsten Murphy, Executive Director to the Vermont Developmental Disabilities Council
Dates and pick-up locations are being set up throughout September in collaboration with Green Mountain Self-Advocates and Vermont Family Network.
Like and Follow our Facebook page to learn about pick-up points as they're scheduled. Refresh our webpage every few days to keep track of the full list. Supplies are limited, and it's first-come first-serve.

Have questions? Concerns? Want to help? Call us at 1 (802) 828-1310 or email vtddc@vermont.gov
---
Side note(s):