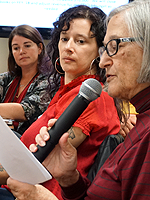 The Vermont Developmental Disabilities Council (VTDDC) accepted an invitation from the Agency of Human Services to discuss changes to how Vermonters with disabilities receive services and funding.
On Tuesday, February 19, Council Members met at the Waterbury State Complex and/or joined by conference call to learn about Development Service (DS) Payment Reform. Self-advocates, family members, and professionals alike were present.
Director of the Division of Developmental Services, Clare McFadden, was the primary presenter along with support from the Commissioner of the Division of Disability, Aging and Independent Living, Camille George. McFaddan served on the Council from 2010 to 2017, and is an expert about Vermont's agencies, the services they provide, and the rules that guides them.
"We try to maximize the dollars that we have. Some of these changes that we're making may require additional State resources." - Clare McFadden responding to concerns about funding
The purpose of the meeting was to discuss:
What is a payment model?

How services work currently.

What are appropriate payment rates?

What has been done thus far.

What we can expect.
 
Since the system that delivers DS payments has not been revised for 30 years, it does not reflect the volume of transactions involved in serving more than 3,000 individuals.
The Council intends to write a response and a plan of action based on what was presented.
For more information about DS Payment Reform read the Presentation by Clare McFadden that was presented to the Council.
---
Side notes:
The Goal of payment reform is to be - "Transparent, effective, accountable and administrable payment model that aligns with Agency of Human Services' broader payment reform and health care reform goals."

The Council's biggest concern about Developmental Services in Vermont is the subjectivity involved when assigning budgets as well as the systems inability to serve some moderate need individuals. Council member and parent, Terry Holden, describes it as "being at the mercy of where you live."