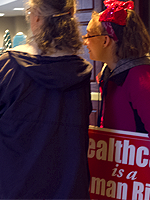 To bolster Medicaid-funded community-based services, disability-rights advocates and service providers came together to discuss quality measures, financial agreements, and opportunities within healthcare reform.
The day-long forum was a collaborative effort hosted by the Vermont Developmental Disabilities Council, Vermont Care Partners, and Vermont Association for Mental Health and Addiction Recovery.
Several themes emerged from the day's conversations:
Participants were unanimous in voicing their desire to have greater stakeholder participation in decisions about healthcare reform.
"We wanted people who understood the system [Medicaid] well enough and have demonstrated commitment to today's success. People who would be positive, engaged, and would craft a message we could all get behind." - VTDDC Policy Analyst Susan Aranoff
They also shared their concerns about aligning long term services and support (LTSS) with the All Payer Agreement. The provider culture in LTSS is very different from that of traditional medical care. Moreover, historically, LTSS have been underfunded, participants said.
Aranoff and Deputy Commissioner Michael Costa, from the Department of Vermont Health Access, collaborated to present facts about healthcare reform in Vermont and how it is slated to evolve.
Participants will meet again before the legislative session to discuss their recommendations to policy makers.
For more information you may email vtddc@vermont.gov
---
Side notes:
Per Act 113, all Medicaid programs must "align" with the Medicaid Accountable Care Program by the year 2020.