Jump to: Good To Know | Breaking Barriers | disABILITY | Vermont is my Home | Speak UP! Speaks out.
All of VTDDC's video projects may be found on our YouTube channel, Facebook, or watched individually through the links below.
Information that's Good to Know from the Council
The Good to Know series is an educational project presented by Council staff. It includes topics about the State House, policy, and general knowledge that could be valuable to self-advocates and family members. In other words, it's inforamtion that's "Good to know!". Search on Facebook #goodtoknowVTDDC for other videos in this series or watch from the playlist. Note: You must be logged-in to Facebook view.
There are two videos to watch:
Story Telling by Vermont Self-Advocates
Breaking Barriers
These films follow and admire Vermonter's who are active in their communities. Mad River Media produced three segments that were all featured on Vermont Public Television with public service announcements.
You can watch Ben, Nicole, and Stirling.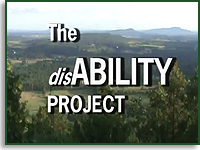 disABILITY
Meet David, Robin, and Sherri, as they share their workspace and describe their job responcibilities. Shadow Productions helped to share the message that we all volunteer, work, advocate, and grow in our communities. The disABILITY Story Project was aired on the radio and television.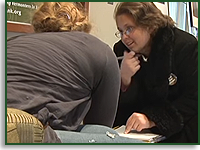 Vermont Is My Home
"When you can't speak words people feel you have nothing to say to make a difference." - Kyle Moriarty
CCTV filmed Kyle, Nicole, and Paul, to show people with disabilities taking control of their own lives and pursing their goals in school, work, and in the community.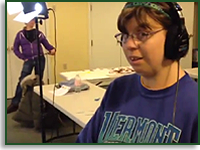 Speak UP! Speaks out.
Self-advocates of "SpeakUp! Addison County" were trained and supported by MCTV to use film equipment, act, direct, and edit their film. Through their hard work they've created a 20 minute film about their advocacy group and members. It was produced by Tim Joy and Speak UP! Addison County.
A special thanks to our participants for opening their lives and paving the way.